HOW WE WORK
A new way 

Forward
NEW works alongside leaders, thinkers and visionaries, cultivating transformation in our community through relationships rooted in our values. We believe that learning is continuous, and that sharing systems, space and strategies with our partners builds resilience in our sector and the world at large.
Our team of strategists, technicians and confidants draw from a deep wellspring of lived and professional experience. Together with our partners, we are imagining radical new ways of being and working that ensure every person in our community is seen and supported.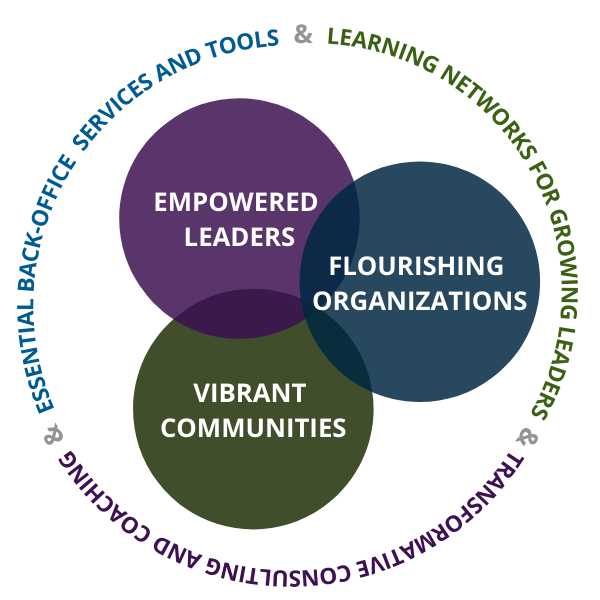 OUR MISSION
NEW inspires and equips mission-driven people, organizations and communities to realize their visions of a just and thriving society.
OUR VISION
Empowered leaders.
Flourishing organizations.
Vibrant communities.
OUR CORE VALUES
We honor the rich diversity of people, experiences and ideas.
We invest in our people, clients and communities.
We seek to understand by promoting lifelong learning for ourselves and our clients.
We collaborate by supporting each other as team members and through partnerships.
We innovate by encouraging creativity and not accepting the "status quo."
We deliver exceptional service—every time.
NEW's Approach
NEW's fee-for-service model powers a wide range of possibilities for our community, from free resources and facilitated conversations to long-term consulting partnerships. Our rates are tailored to emerging nonprofits; we approach each relationship with flexibility and creativity, so we can meet you where you are. The revenue we generate sustains our team and our work, so we can continue to respond to challenges with intention and precision.
leadership Deli Graduates
nonprofit technology clients
organizations housed at new