CHAMPIONS FOR CHANGE
Lead
with courage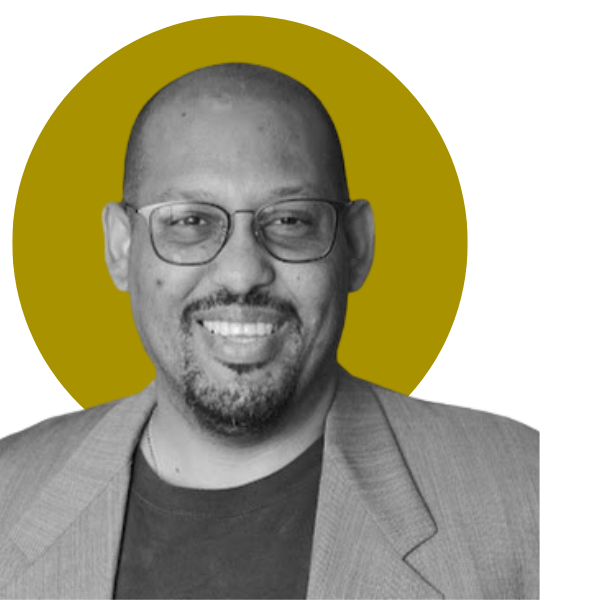 John Rodriguez
Leaders of Color 2021-2022
In vibrant communities, all people are welcomed, included, valued and nurtured. The racial disparities our communities face, though, prove that we're not there. Champions for Change brings together and inspires leaders as we all work toward a co-liberated future. Together, we can find new ways to disrupt the many forms of racism.
Throughout Champions for Change, we nurture and support Leaders of Color and White Leaders in their efforts for social change. We cultivate dialogic skills, engage in critical self-reflection, and empower each other to leverage our influence to create racially equitable communities. Here, you'll find a space for reflection, imagination, healing, experimentation, and transformation. Together, we're laying the groundwork for systemic change in our communities.
Applications for the 2023-24 Champions for Change cohort are now closed. Click the link below to join our mailing list and stay in the loop on upcoming opportunities to join this community!
 Why Champions for Change and why NEW?
Our society remains segregated because of systemic racism and other forms of oppression. To make vibrant communities, we need leaders who are aware of and committed to addressing racial injustice. Champions for Change is an embodiment of NEW's devotion to that vision. Here, we offer innovative ways to approach racial co-liberation on personal and collective levels.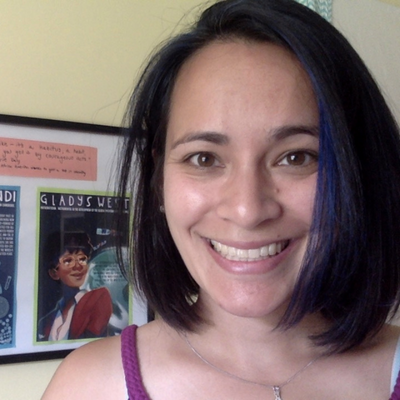 I feel more knowledgeable about local history, challenges, and opportunities. I have a greater sense of some of the things I want/need to continue learning and practicing. And also a stronger urge to get involved in local efforts with ideas of who to ask for help getting involved in those efforts.
Josyln Hunscher-Young
Leader of Color 2021-2022
listener, thinker, organizer, caregiver, and educator!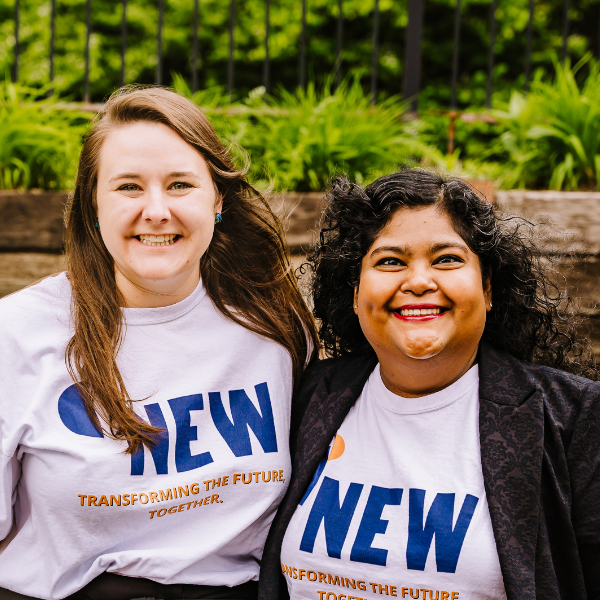 Carly Friedrich & Hamida Bhagirathy
NEW Learning Communities Team
THE CHAMPIONS FOR CHANGE EXPERIENCE
In Champions for Change (CFC), you'll grow in your abilities as a values-driven leader. You'll uncover the implicit and explicit ways race has impacted your lived-experiences. You'll practice dialogue across identity. And you'll conspire with others to spur change towards racial co-liberation.
Champions for Change commit to a ten-month-long (10 months) intensive leadership development program. Champions meet every two to three (2-3) weeks in four-hour (4-hour) sessions. Most sessions will take place in-person in Washtenaw County. *During each session, Champions are encouraged to wear face masks and social distance.* Each session emphasizes building relationships, sharing stories, practicing deep listening, and skill-building. (We also make time to share lunch together!)
While all Champions for Change are part of the same cohort, you will, at times, connect in smaller groups by social identity. This will allow space for folks to have open dialogue with those who may have shared experiences. Broadly, we will have Leaders of Color and White Leaders, and additional affinity groups as helpful. This is because we have different needs on our journeys to racial justice and collective healing. We all need space to share honestly and deeply about our experiences, lowering our armor. These affinity groups allow us to do that.
The '23-'24 cohort will include up to thirty-two (32) people from communities across Southeast Michigan. Most sessions will include time both in affinity groups and all together. This approach minimizes harm and creates moments for deeper dialogue with the cohort.
Through this experience, you'll:
Deepen your understanding and skills for advancing social and racial justice, equity and inclusion.
Enhance your emotional skills and practices of courage, resilience and compassion to sustain justice work.
Honor the wisdom and experiences of the CFC community by uplifting their knowledge and expertise.
Strengthen your relationships with other justice-focused leaders across SE Michigan who are focused on racial justice.
Identify and upend unjust policies, practices and procedures within your spheres of influence.
Create the conditions for more Leaders of Color to grow in their leadership across sectors and industries in SE Michigan.
Virtual Orientation
Saturday, September 23rd, 10am – 11am
Kickoff Retreat
Saturday, September 30th, 9am – 5pm
Grounding in Our Stories
Saturday, October 21st, 10am – 2pm
Washtenaw Historical Journey
Saturday, November 4th, 9am – 12pm AND Saturday, November 18th, 10am – 2pm
Introduction to Dialogue
Saturday, December 9th, 10am – 2pm
Champions for Change Social (optional)
Wednesday, January 10th, 4pm – 6pm
Courageous Conversations
Saturday, January 20th, 10am – 2pm
Embedded Racism & Embodied Resistance
Saturday, February 17th, 10am – 2pm
Reflecting on our Organizations
Saturday, March 16th, 10am – 2pm
Visioning
Saturday, April 13th, 10am – 2pm
Champions for Change Social (Optional)
Tuesday, May 7th, 6:30pm – 8pm
Retreats
Friday, June 7th, 8am – Sunday, June 9th, 3pm
Celebration
Saturday, June 22nd, 10am – 2pm
FREQUENTLY ASKED QUESTIONS
How Do I Know if Champions for Change is Right for Me?
Our Champions are leaders from across Southeast Michigan, from diverse backgrounds, committed to advancing racial justice and social change. They're eager to partner with others across lines of difference and form deep relationships. They're ready to grow and learn, both together and alone. They're excited to engage in reflective, affective, and experiential learning.
The Leaders of Color (LOC) affinity group is open to self-identifying People of Color; this includes our Black and Multiethnic affinity groups. Our White Leaders (WL) affinity group  is open to self-identifying White or White-presenting people. Champions  must be 18 years or older and live or work in Southeast Michigan. This program is open to anyone, regardless of citizenship.
How are Champions selected?
Applications for the 2023-24 Fellowship will open on August 1st, 2023 at 9:00am and close on August 22nd at 9:00am. You'll be able to submit your application virtually, via a link shared on this page. After that our team will invite prospective Champions to participate in 15-minute virtual conversations. Relationships matter in Champions for Change, and we know you're so much more than the "written word" of an application. This is your chance to share more about yourself and your passion for racial co-liberation!
The most important element of your application is your personal commitment to advancing racial justice in Southeast Michigan.  Otherwise, you must:
Live or work in Southeast Michigan (regardless of citizenship).
Be available to attend program sessions and complete session pre-work.
Demonstrate openness to learning, readiness to engage, and the will to be vulnerable. You must be ready to grow, on your own and as a collective.
Be committed to deepening relationships in our community.
A diverse cohort helps us learn better, so as we're building our cohort we'll consider all of the identities you share, with a focus on:
Race/Ethnicity
Generation
Gender (identity or expression, beyond the binary welcome)
Sexual Orientation
Ability Status
Work – sector and industry
How Much Does It Cost?
The actual cost of Champions for Change is $4,000 per participant, which NEW further subsidizes through contributions. This brings down your participation fee to $3,000 or less, depending on your financial circumstances. We encourage seeking sponsorship from your employer, as you'll gain skills to help foster a more racially equitable workplace*
At NEW, we understand how systemic racism and other forms of oppression have created financial inequity within and between our communities. So, we do our best to balance the scales whenever possible. In this case, that includes offering subsidized program fees when we're able.
To make this possible, we ask that all potential participants review and reflect upon the 'Green Bottle Method' [linked here] of your financial privilege. Which "bottle" best describes your financial situation?
After reflecting upon the 'Green Bottle Method' and your financial circumstances, determine what you're able to pay towards participation in the program:
Perhaps you're well-resourced and able to contribute beyond the full cost per participant. Please do so. Your contribution enables us to offer scholarships to those in need.
Perhaps you're securely resourced, and able to meet all of your financial needs and wants. Contribute $3,000 for the full cost of participation
Perhaps you're moderately resourced, and able to meet your financial needs and some wants. Contribute $2,000 or $1,000 depending on your capacity.
Perhaps you're not able to bear $1,000. We encourage you to apply and reach out to us so we can talk things through. We'll do our absolute best to help you join us
*We encourage employers to sponsor their staff's participation in Champions for Change.  Institutional racial co-liberation requires team members that are themselves anti-racist. Your sponsorship is an investment in your organization to become more racially just. If you would like to sponsor someone, we recommend reviewing the application criteria, then gauging their interest and capacity. If they're a good fit, recommend they complete our application, and affirm you'll financially support their engagement.
What's the 2023-24 schedule?
All sessions listed below take place in person in Washtenaw County and are required for Champions to attend, unless otherwise noted.
We'll monitor and adhere to Washtenaw County and CDC guidelines related to COVID-19 for all in person gatherings. Sessions marked with * will take place virtually.
Orientation*
Saturday, September 23rd
10am – 11am
Kickoff Retreat
Saturday, September 30th
9am – 5pm
Grounding in Our Stories
Saturday, October 21st
10am – 2pm
Washtenaw Historical Journey: Part 1
Saturday, November 4th
9am – 12pm
Washtenaw Historical Journey: Part 2
Saturday, November 18th
10am – 2pm
Introduction to Dialogue
Saturday, December 9th
10am – 2pm
Champions for Change Social (optional)
Wednesday, January 10th
4pm – 6pm
Courageous Conversations
Saturday, January 20th
10am – 2pm
Embedded Racism & Embodied Resistance
Saturday, February 17th
10am – 2pm
Reflecting on Our Organizations
Saturday, March 16th
10am – 2pm
Visioning
Saturday, April 13th
10am – 2pm
Champions for Change Social (Optional)
Tuesday, May 7th
6:30pm – 8pm
Retreats (Idlewild, MI)
Friday, June 7th – Sunday, June 9th
Depart: 8am | Return: 3pm
Celebration
Saturday, June 22nd
10am – 2pm