Thirty (30) years ago, philanthropists in Washtenaw County envisioned an arts incubator in Ann Arbor. Their aim was to help drive economic stimulus in the downtown area. The building they landed on was in an old warehouse district heading out of town. They wanted to offer rent below market rate and spur the economic activity in the nearby community. And in the thirty (30) years of NEW's practice, we've been successful in doing just that. 
In the early 90s it was a place where you could hang your shingle. Lean arts nonprofits got an office (or a couple) without having to sustain an entire building. At the time, it was fantastic. Since, however, NEW's work has evolved, and that model has become a little outdated. In some ways, it's problematic and perpetuates the single nonprofit narrative. 

The creative, visionary core of NEW responded to this by evolving with the times. We leaned into hard conversations and reflections as we considered the future of our work. Both the field of philanthropy and NEW's work have evolved since our origin. We're moving past a siloed philosophy on community investment and impact. We are exploring new ways of sharing wealth and practicing justice and solidarity to make real change. And while our primary focus is Washtenaw County, we're trying to share what we're learning. We hope our practices and transformation provide a blueprint for others in the social sector as a whole.
In that vein, NEW has some bold work on the horizon. On September 15th, you're invited to witness the unveiling of our plans to renovate the NEW Center. This project is the physical launchpad of our values-driven vision of community transformation. Of course, we're excited about our expanding programs, practice and space. But what's most exciting for me is how – our process. We're making all of this change with intention, using our values, mission and vision to support every part of this work. From fundraising to construction, these core elements are guiding every decision. 
Today, NEW has evolved from that arts incubator into a thriving resource for changemakers. Our vision is one of empowered leaders and flourishing organizations that make communities vibrant. In 2020, we expanded our mission to include mission-driven people, organizations, and communities. This expansion is what I'm hoping we can embody in the new space. I'm recognizing that so much – care of people and planet – has been pushed onto the social sector. We need an ecosystem-level response to these deep, complex and historic social justice issues. And so, as pithy as it sounds, we're better together. We need to bring more mission-aligned people together, regardless of industry or business designation. Because in reality, both nonprofit and for-profit organizations are in community together. And it will take us all, a full ecosystem, working together to sustain that community.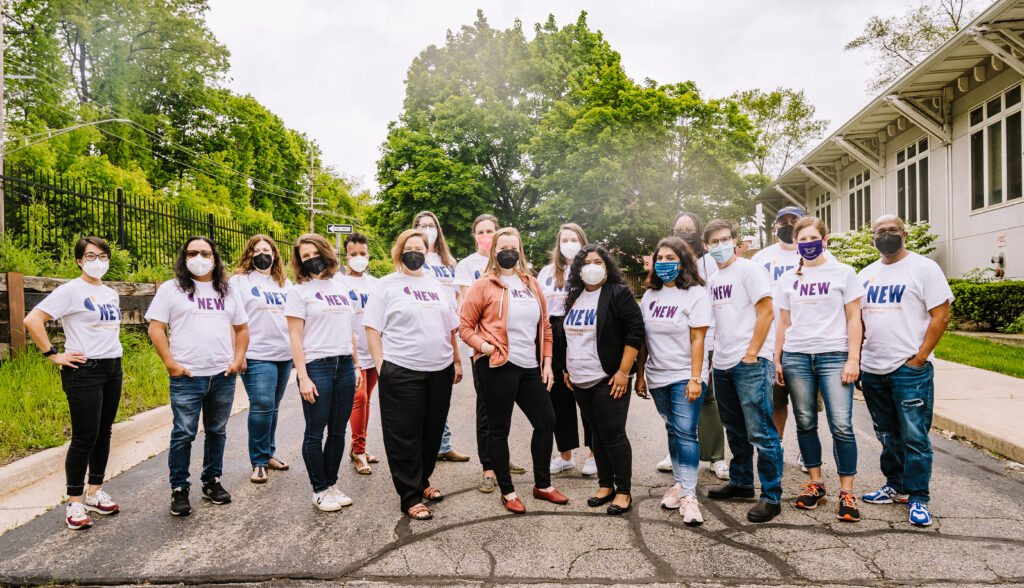 As we continue practicing values-driven decision-making, we plan to share more about our process. And how we're thinking about those things differently in fundraising, building, convening and creating community. Our hope is that our journey will add to the growing narrative and work that's transforming communities. Let's dig into these complicated areas that are over-informed by supremacy and power imbalances. We want you with us as we head forward with greater insight, skill and courage.  
This is the next chapter for NEW; one that will have a lasting impact on us and our nonprofit practices. I hope you'll join me as we kick things off on September 15, for The First Look: The NEW Design Reveal Party. I can't wait to see you there!
Yodit Mesfin Johnson